ABOUT THIS EVENT
Presented in partnership with BCITSA, BCITFSA, and BCIT Respect, Diversity & Inclusion Office.
Learn simple but meaningful actions including acknowledging someone's pronouns and understanding the basics of gender identity, to help build safe, inclusive spaces for LGBTQ2+ students and employees.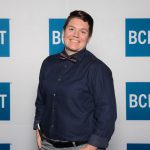 Trina Prince (they/them), is a trans non-binary, white, European, who grew up in Ontario, and currently lives on Kwikwetlem Territory in Coquitlam. Trina currently works at the BCIT Student Association as the Event Manager, where they plan, organize, market, and implement events for the students at BCIT. Outside of BCIT, Trina is very honoured to be the Board Chair for WAVAW Rape Crisis Centre. Trina is a proud feminist who is actively working with others to end all gender based violence. In 2014, Trina received their Masters of Arts in Leadership from Royal Roads University. Over the past 11 years Trina has held a multitude of leadership roles in their professional and volunteer life and looks forward to learning more with you today.
Lunch will be provided provided and ASL interpretation provided by request. Please contact us with any accommodation needs.
Open to BCIT employees and students
Tickets are no longer available.