ABOUT THIS EVENT
Diversity Circles is thrilled to present this workshop from Hook or Crook Consulting!
Session description & learning outcomes provided by Hook or Crook Co. 
In this session, participants are challenged to discuss and reflect on what doing "The Work" means, particularly in our commitments to collective liberation, justice, and community healing. Centering the experiences and needs of Black, Indigenous, People of Colour, we explore some of the ways that derail us from doing "The Work", and the tools that can sustain us for the long haul.
After attending this workshop, individuals will be able to:
Articulate the concept of futuring, and the ways that Black queer communities take this on;
Re-orient themselves to what "The Work" is in their own lives as co-conspirators and allies in support of futuring Black lives;
Articulate the value of exploring power, privilege, and oppression;
Connect some of the ways that harmful practices, ideologies and beliefs undermine our ability to show up for Black queer people;
Develop a critical understanding of the "master's tools" within white supremacy, including disposability, ego, binaries and power-over which can specifically harm Black queer people; and
Draw from a variety of tools and solutions that support our ability to show up and do The Work, including values, ethics, relationships, skills, experiences and practices.
Join Hook or Crook Co. consultant Nic Wayara for this workshop!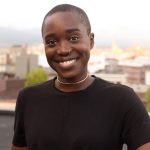 Nic Wayara is founder and principal of Hook or Crook Consulting, an equity, diversity and inclusion company that weaves the transformative practices of community care and social justice into the fabric of organizations teams and individuals. She offers one-to-one consultations, group workshops and seminars, and ad-hoc organizational supports that cultivate environments of justice, care and community at work.
Possessing a penchant for lively discussions and self-exploration, Nic is also co-creator and host of the podcast, Seen, and is a proud board member at WISH Drop-In Centre Society. Her expertise has been sought by the Vancouver Queer Film Festival, the University of British Columbia, WAVAW Rape Crisis Centre, and the Canadian federal government. Nic holds a Master of Public Administration and a Bachelor of Arts in Gender, Race, Sexuality and Social Justice Studies.
Register below!
This session will take place online (a Zoom link will be provided by calendar invite).
ASL interpretation will be provided. Please let us know if you have any additional needs to participate. This session is open to all members of the BCIT student, staff, faculty, and internal partner (e.g. student association, alumni association) community.
Code of Conduct
Posted: September 16, 2021
Diversity Circles, in cooperation with the BCIT Respect, Diversity, and Inclusion (RDI) Office, has recently introduced a Code of Conduct for our events and initiatives.
Diversity Circles has always benefitted from the empathy, sincerity, and respectful curiosity of our community, and this has helped create events and initiatives where we hold productive and authentic discussions, advancing our knowledge and utilization of equity, diversity, and inclusion principles.
As our events and initiatives continue to reach out to diverse audiences which include BCIT employees, students, and partners (BCIT Student Association, BCIT Alumni Association, and industry guests), and as we have moved towards presenting events both in person and via teleconferencing platforms, we realize that having a Code of Conduct will help maintain the accountable, respectful spaces our community has come to expect from Diversity Circles events and initiatives.
Please take the time to review our Code of Conduct prior to your upcoming participation.
Tickets are no longer available.